The Tool of Choice for Statisticians around the World
SuperCROSS is our fully supported desktop cross tabulation analytics tool for enterprise organisations. This product offers sophisticated analysis of data at any level of detail, from raw data through to highly aggregated cross tabulations—all without the need for programming.
Experts charged with extracting intelligence from huge volumes of raw data can empower organisations to make faster and more appropriate decisions. SuperCROSS gives you the ability to rapidly explore the outcome of different scenarios with large data sets, honing in on a specific subset and extracting the unit record data or quickly making adjustments and conducting further analysis.
SuperCROSS cuts the pain points of data aggregation, manipulation and dissemination, freeing power users to direct their energies to thinking about the interpretation and analysis of complex, high volume data, instead of wrestling with the tools.
That's why it's the tool of choice for leading analysts and data scientists around the world.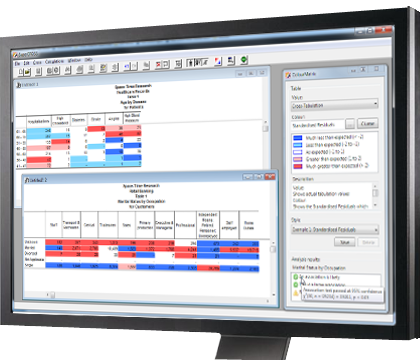 Trusted By the World's Leading Statistics Organisations