Your download and/or use of SuperTABLE is subject to the SuperTABLE Terms and Conditions. Please read these Terms and Conditions carefully before downloading or using SuperTABLE.
BY DOWNLOADING OR USING SUPERTABLE, YOU SIGNIFY YOUR ASSENT AS THE INDIVIDUAL END-USER TO THESE TERMS AND CONDITIONS, INCLUDING ANY AGREEMENTS FOR THIRD PARTY SOFTWARE THAT IS INCLUDED AS PART OF SUPERTABLE. IF YOU DO NOT ACCEPT THESE TERMS AND CONDITIONS, THEN YOU MUST NOT DOWNLOAD OR USE SUPERTABLE.
THIS SOFTWARE IS ONLY PROVIDED FOR SPECIFIC REGISTERED INDIVIDUAL END-USERS.
Instructions for Updating your License Key
If you have an existing version of SuperTABLE installed, and you see a message similar to the following when you attempt to start the application, then please follow the instructions below to update your license key.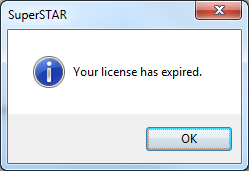 Close SuperTABLE if it is running.
Go to the Windows Control Panel and use the Uninstall a program option to remove your existing SuperTABLE installation.
Download SuperTABLE 7.1 using the link above and run the installation process.
Notes:
The download file consists of a zip file. To install the application, extract the contents and run setup.exe.
Version 7.1 is to be used for cubes downloaded from the Australian Bureau of Statistics website (version 4.3 has been discontinued).
If you are upgrading from 4.3, ensure you uninstall SuperTABLE 4.3 first.
Version 7.1 requires you have Microsoft .NET Framework 3.0 installed.