As a retail business, you know that getting staff rosters right is one of the most important foundations of a store's success. Having the right people on the floor at the right time is crucial if you want to maximise potential sales and minimise lost opportunities. If you're still using Excel to plan your rosters, then it's likely that an advanced retail staff rostering solution will save your managers a lot of time and effort when planning their rosters. That means more time for them to focus on the store's success.
But what should you look for when selecting a staff rostering platform? In this article, we outline three key features you should definitely consider when choosing a solution to replace your clunky and time-consuming Excel rostering spreadsheet.
1. Automatic Customer Demand Forecasts
The single most important metric that should inform your staff rostering decision making is the expected demand from potential customers. Schedule too many people on quiet days, and you're wasting resources without much chance of improving your bottom line. On the other hand, if you schedule too few people at busier times then you're likely to miss potential sales if customers can't get the help they need, or don't want to wait in a long queue at the checkout.
And remember that historical sales data doesn't tell the whole story when it comes to predicting future demand, because it doesn't tell you about those missed opportunities.
Choose a rostering solution that can generate an accurate prediction of future customer traffic/demand, broken down by store, day and time, based on historical traffic trends and conversion rates, as well as sales. Empowered with this information, you can make informed rostering decisions, driven by the data.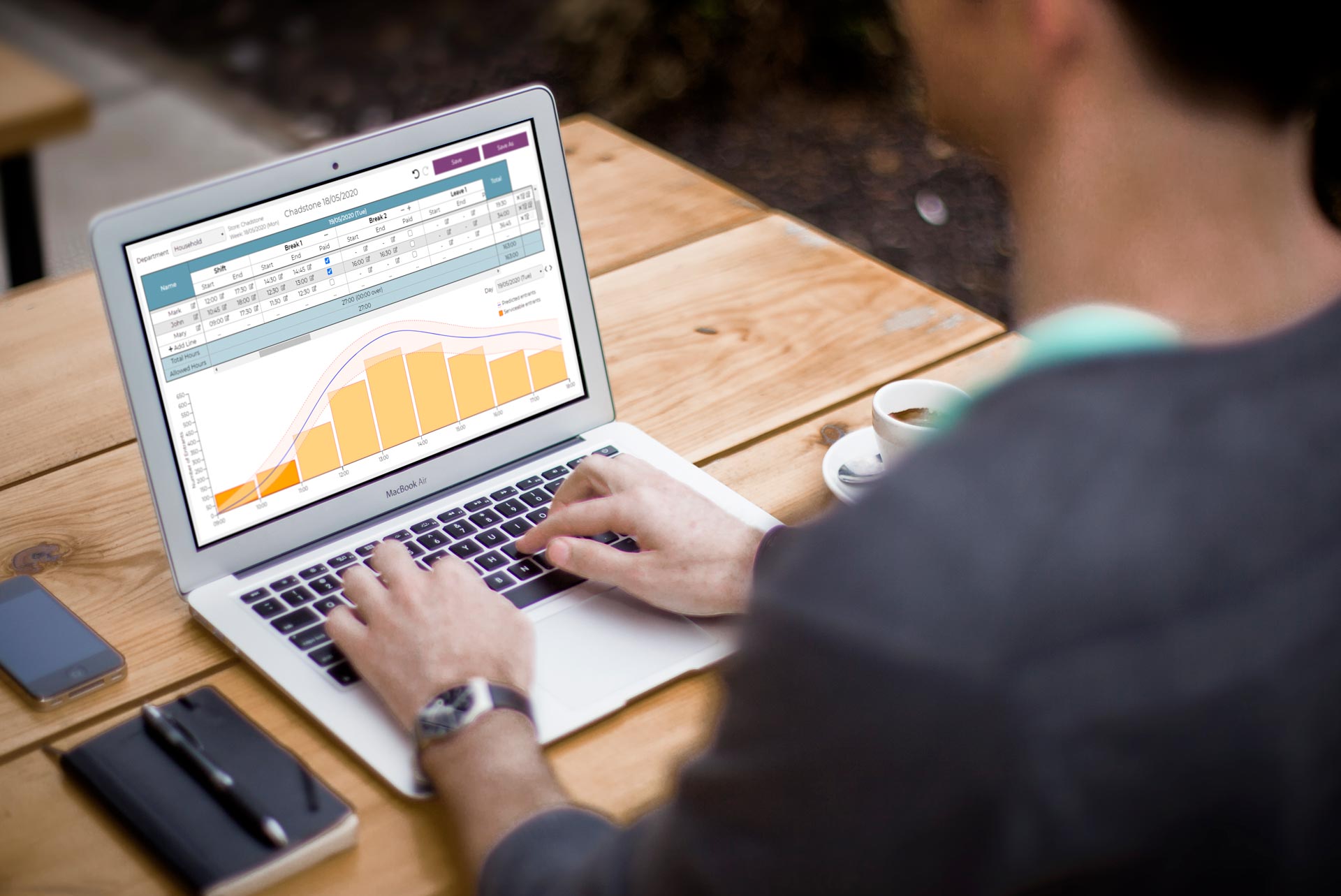 2. Integrated Sales and Budget Targets
One of the goals of efficient rostering should be to help your stores achieve their sales targets, so choose a solution that takes those targets into account when calculating projected future demand.
WingArc Retail Analytics automatically calculates expected sales based on historical traffic and POS data. Using this data as a solid foundation, you can then input your own sales targets across individual stores and departments. The combination of prediction and your own input is then used to present the recommended rostered hours that will be needed to meet the projected demand and achieve those targets.
Look for a simple and intuitive interface that makes rostering quick and easy.
Ideally you'll want to see features like weekly and daily breakdowns for each store and department so you can see the status of your roster at-a-glance. You'll also want simple controls for allocating resources and making adjustments.
Looking for a Retail Staff Rostering Solution?
WingArc Retail Analytics features demand-driven staff rostering to help you boost sales and reduce costs.