If you're like most retail businesses, then rostering is probably a major drain on resources.
In fact, our Retail Analytics customers told us that staff rostering was the number one task that consumes their store managers' time.
But what information are you using to drive your rostering? Retail data can provide valuable insights to help you build more efficient staff rosters. If you're not using it, you're missing out. By adopting a demand-driven rostering strategy, you can make sure you always put the right people on the floor at the right time.
Your Sales Data Alone Is Not Enough
If you want to make properly informed decisions to drive your staff rostering, then you need as much data as possible. An obvious place to start might be your sales data. But building staff rosters based on historical transaction data alone may not give you the best results.
That's because your sales data only tells part of the story.
Your historical sales data will have been influenced by a range of factors, such as the availability of staff at the time to assist customers with their enquiries on the floor, as well as processing orders at the checkouts. Other factors that influence your sales data are things like seasonal trends, short term promotions you may have been running, and so on.
Sales data in particular doesn't tell the story of the missed opportunities. The customers who left without making a purchase because the line at the checkout was too long, or because there was no one on the floor at the right time to help them with the product information they needed to make a buying decision.
Add Traffic Data for True Demand-Driven Rostering
In-store foot traffic data, combined with that historical sales data, can you give you a clearer picture of the trends you need to inform your rostering. In fact, traffic data is a much better metric to predict future demand than just sales alone.
That's because every customer who walks through the door is a potential opportunity to convert to a sale, so understanding when to expect those potential customers to enter the store, based on historical trends, is crucial. If you can build rosters that ensure you have the optimum staff-to-customer ratio, then you will be well placed to achieve your maximum sales potential.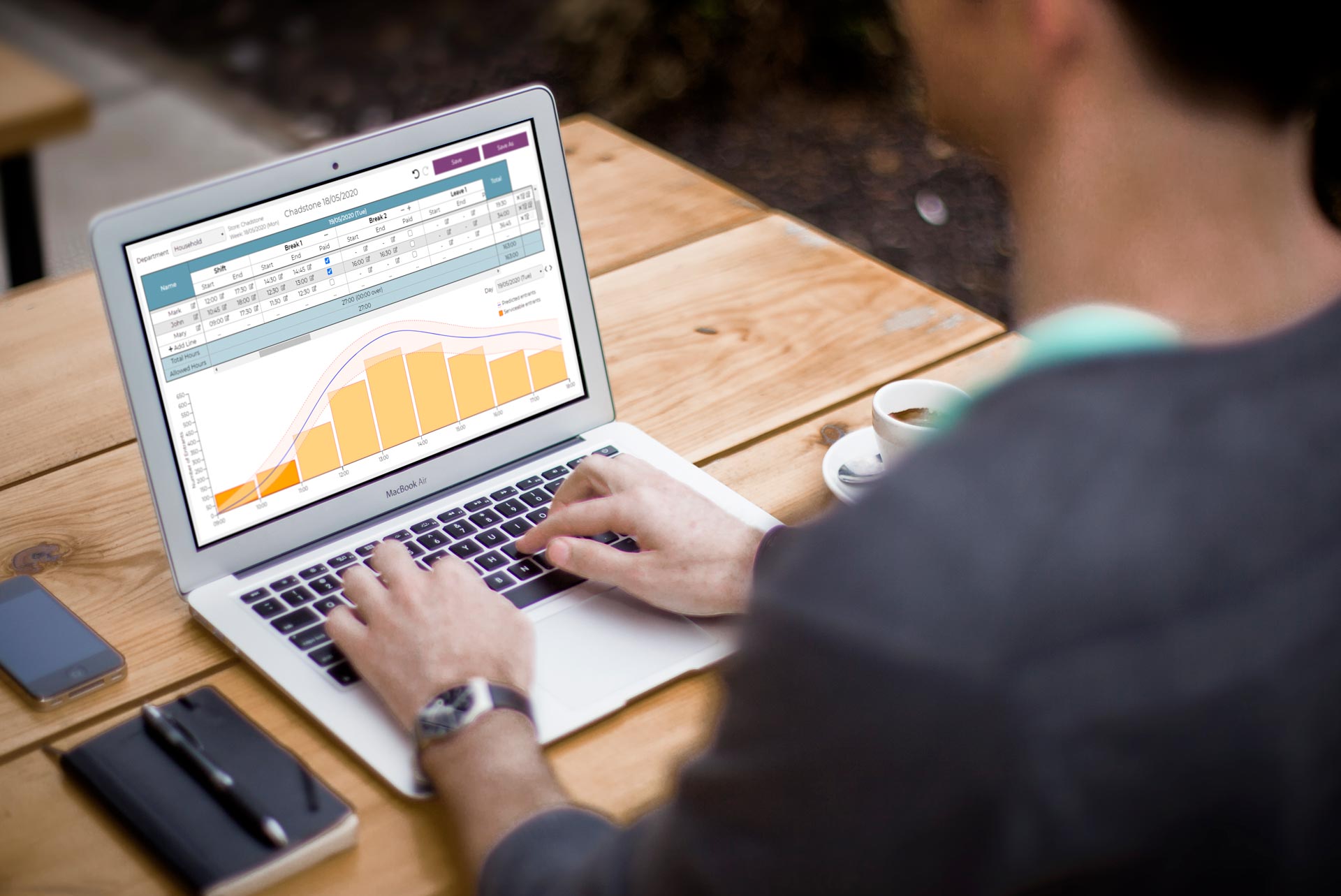 Demand-Driven Rostering in WingArc Retail Analytics
The rostering capability built in to WingArc Retail Analytics helps you to build efficient rosters by automatically projecting future expected demand for the period you are rostering. This calculation is based on your historical traffic trends, taking into account factors like public holidays and seasonal events/trends such as the run up to Christmas, Black Friday, and so on.
To create rosters, you simply enter in your maximum potential staff budget and then start building up your rostered hours within that budget so that you have enough people on at all times to meet expected demand.
Our rostering solution helps our customers to ensure they always optimise their staffing ratio to meet demand, reducing unnecessary labour costs while providing their customers with the optimum in-store experience, and minimising the potential for lost sales.
Want To Know More?
Explore WingArc Retail Analytics to understand how our demand driven rostering capability can help you build staff rosters that boost sales and reduce costs.