The last few years have seen an explosion in the volume of statistical information being collected by both government agencies and businesses alike. How can organisations keep up with the competing pressures to make more and more of this data available online while at the same time respecting their privacy and confidentiality obligations?
We recently hosted panel discussions in Melbourne and Canberra where attendees heard direct from our customers how Space-Time Research solutions are helping them disseminate their data online, and how our best practice disclosure control solutions make it possible to release unit record data with confidentiality and privacy protection automatically applied.
The Catholic Education Office (CEO) and Tourism Research Australia (TRA) presented at the event.
Sue Stockbridge, Catholic Education Office

The Catholic Education Office (Canberra) presented some of the issues surrounding the release of critical data and the need for changing the way data is managed in-house.
It is well known that there are common denominators affecting large organisations when it comes to the management of data. The CEO highlighted some of those issues and demonstrated how Space-Time Research software helped provide a solution:
Common Problem
CEO's Vision
STR Solution
Proliferation of separate sources of data in different formats within an organisation. Data is not accessible by all, but managed by individuals.
Combine all data sources, without changing everyone's familiar workspace.
SuperCHANNEL – links all types of data sources to be viewed & accessed through one client.
People within an organisation taking ownership of data and restricting access by others.
Ease of access to all the different sources available.
Web based end user tool allows access to all both in and out of the office.
Relying on others for access to data, resulting in long wait times.
Empowering everyone so that they do not rely on others.
Training and an intuitive interface that is easy for everyone to use.
Information is out of date because of the time it takes to get access to reports. Users are always working off the wrong facts and figures.
Change of work practice: users responsible and capable of obtaining their own reports in real time.
SuperCROSS and SuperWEB2 ad hoc reporting allows staff to hone in on the area that concerns them and see the current state of the data.
Data Integrity: mistakes being made due to human error.
Remove repetitive and error-prone processes.
SuperSTAR allows tables and recodes to be saved and reused:

SuperWEB2 – users can save tables and recodes and open pre-defined tables.
SuperCROSS – can save and load TXDs or recodes.

Decisions made on "maybes" instead of known data. Guessing or assuming figures leading to inaccurate planning.
Turning data into useful information so decisions are based on meaningful facts.
SuperWEB2 allows creation of reports/tables to make sense of data, find correlations and anomalies.
Job Satisfaction – labour intensive and repetitive processes decrease enthusiasm.
Remove repetitive processes and simplify tasks.
SuperWEB2 – users can save tables and recodes and open pre-defined tables.
SuperCROSS – can save and load TXDs or recodes, eliminating tedious, time consuming tasks.
SuperCHANNEL Brings Everything Together
At CEO, SuperCHANNEL brings multiple departments together eliminating the data proliferation problem. SuperCHANNEL converts all the source data into Space-Time Research's SXV4 format. This can then be opened and displayed by SuperCROSS and SuperWEB2: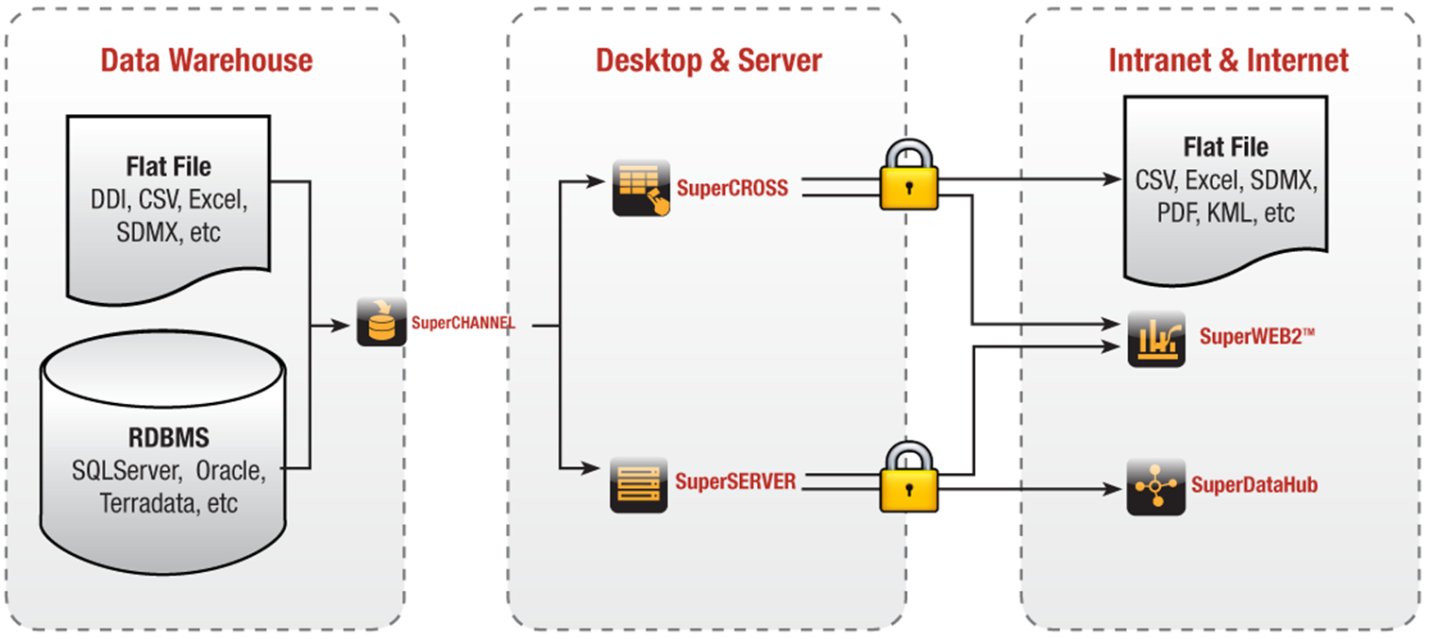 All Secured with Permissions
SuperWEB2 and SuperCROSS can easily be secured with permissions, so different users only see the information that they are allowed to see. For example, at CEO: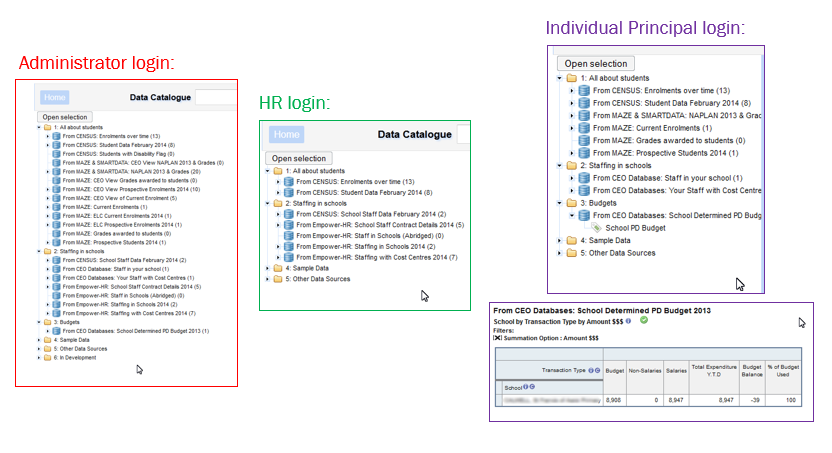 Example of Questions SuperWEB2 Answers:
The main question at the end of January: how many kids have started school this week?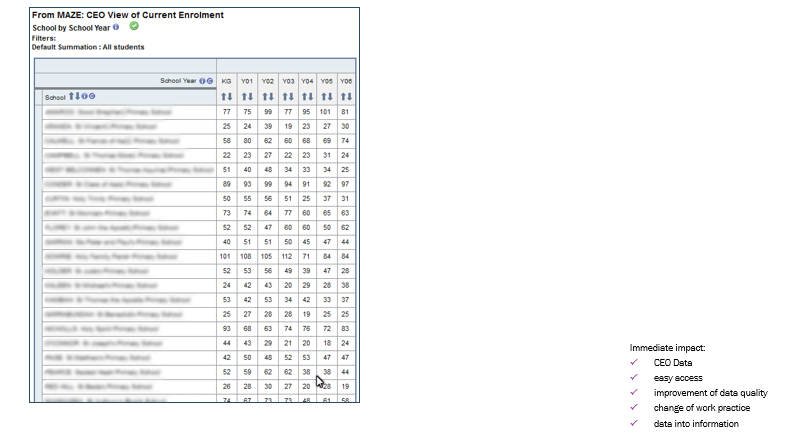 SuperWEB2 has helped the Catholic Education Office change and improve the working behaviours of staff by giving them the ability to perform their tasks with greater efficiency and ease. The above examples show the problems common to all large organisations, and the vision needed to solve such problems.
Rod Battye, Tourism Research Australia

Our next panellist, from Tourism Research Australia, discussed the implementation process required for moving into a data dissemination system for public use.
Rod showcased how TRA is using our SuperWEB2 online product to share tourism research results with their users. SuperWEB2 is being used as a student portal at universities.
The scope of work being carried out by TRA with the help of SuperWEB2 is as follows:
40 000 face to face (CAPI) interviews per year
Up to 80 interviewers & supervisors
120 000 interviews per year
9 Categories of information collected & reported on
Prior to the roll out of SuperWEB2, the TRA provided information to the public in 4 ways:
Hard copy publications and PDFs
Telephone enquiry service
Data and software available on a CD
Standard website
These methods all have their drawbacks. Printing large volumes is expensive and time consuming. By the time material comes back from the printer, it is already out of date. Telephone services can experience lengthy wait times leading to customer dissatisfaction and staff overloaded with incoming calls.
Making data available on CD, like printing, is costly and distribution takes time which then means the data is also out of date by the time it reaches its audience. A standard website requires a lot of maintenance by IT and there can be long delays between the release of new data and getting it online.
The issue with all these methods of data dissemination is the same: data is out of date by the time it reaches its audience. And this means businesses seeking information are always planning and strategizing their business plans based on incorrect figures.
The solution TRA envisioned was to:
improve flexibility
train staff in data manipulation software
develop stronger relationships with industry, regional organisations and the university sector
These aims were suggested to not only improve the information available, but also to make it better known and more accessible both internally and externally. After deciding on their requirements and going to tender, a few software companies came back with their proof of concepts.
| TRA Software Requirement | Purpose | STR Solution |
| --- | --- | --- |
| Allow TRA to build own data. | Provide specific reports to industry and government. | SuperCROSS allows for the building of complex ad hoc data queries and tables directly from unit records. |
| User friendly software | Internal and external users will need access and we have limited resources to train them. | SuperSTAR suite does not require programming. This is a unique feature in comparison to other analytical tools. |
| Ease of implementation and maintenance. | Don't want to drain IT department time or resources. Budget considerations. | SuperSTAR suite requires very minimal ICT involvement. Space-Time Research handled the major implementation tasks. |
| Minimal Hardware requirements. | Keep infrastructure costs low. Budget considerations. | SuperWEB2 and SuperDataHub are web based products with minimal hardware and infrastructure requirements. |
| Ability to customise. | We have industry specific queries and subjects – not general. | STR Web products are fully customisable and adaptable to suit individual requirements. |
| Administration and resourcing. | Admin staff must be able to access. Don't want to be waiting for IT department. | STR training and support make it easy for staff to learn to use and manage. |
| Security and/or product integrity. | Data sovereignty issues, privacy rules and regulations must be met. | SuperSTAR suite offers several layers of security. |
| Support and training. | Required to ensure a smooth transition into new methods of doing things for internal staff. | STR Provides support locally, and makes available training materials and information tailored to each product within the SuperSTAR Suite. |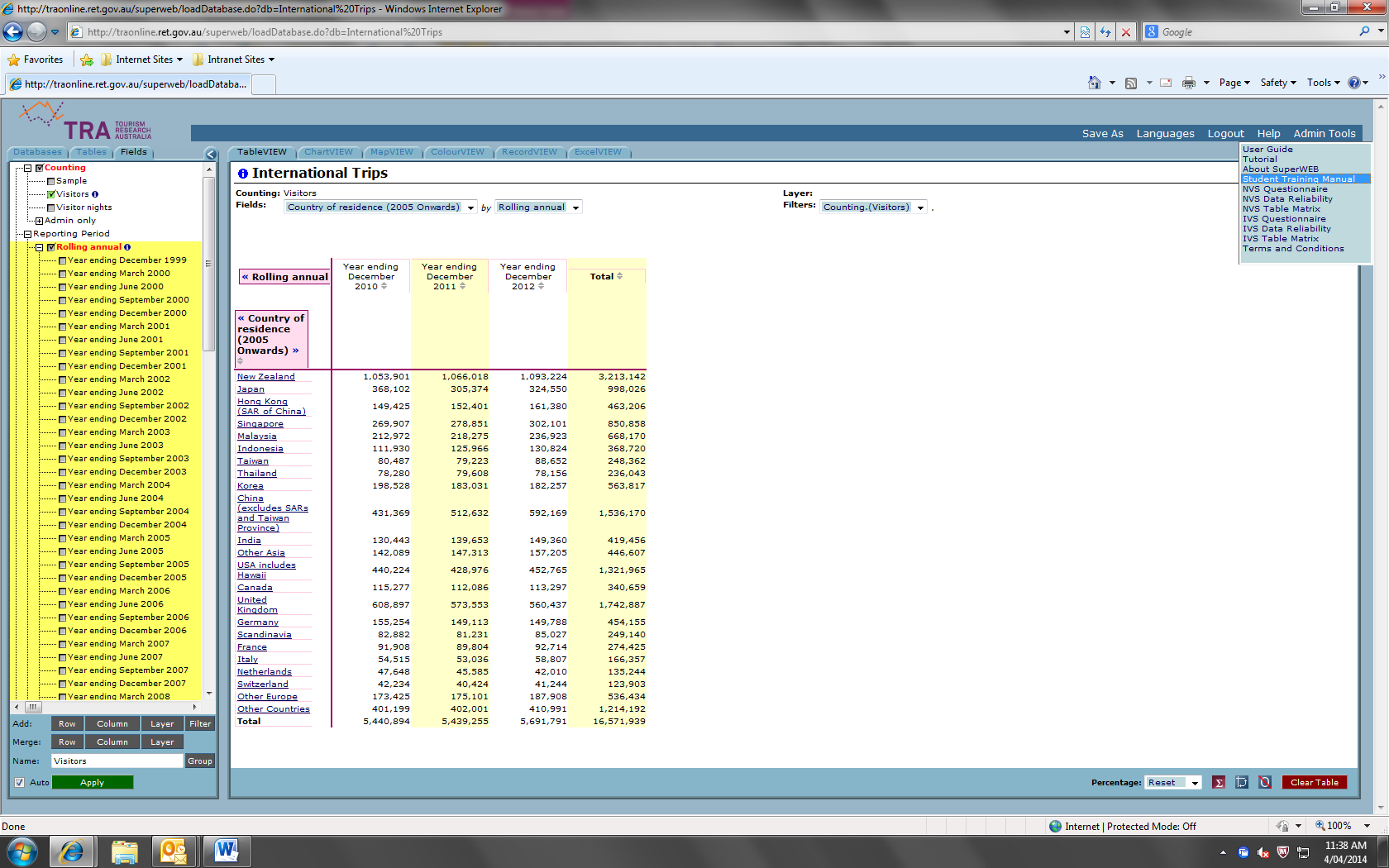 The system is intuitive and easy to use and allowed for the distribution of the data to more than just researchers. Rod mentioned that because of this intuitiveness in building queries, users would spend only 10% of their time on learning how to use the product and 90% of the time in learning about and understanding the data.
The help function was fully customised by TRA with guides showing users how to navigate the system and also explaining the data: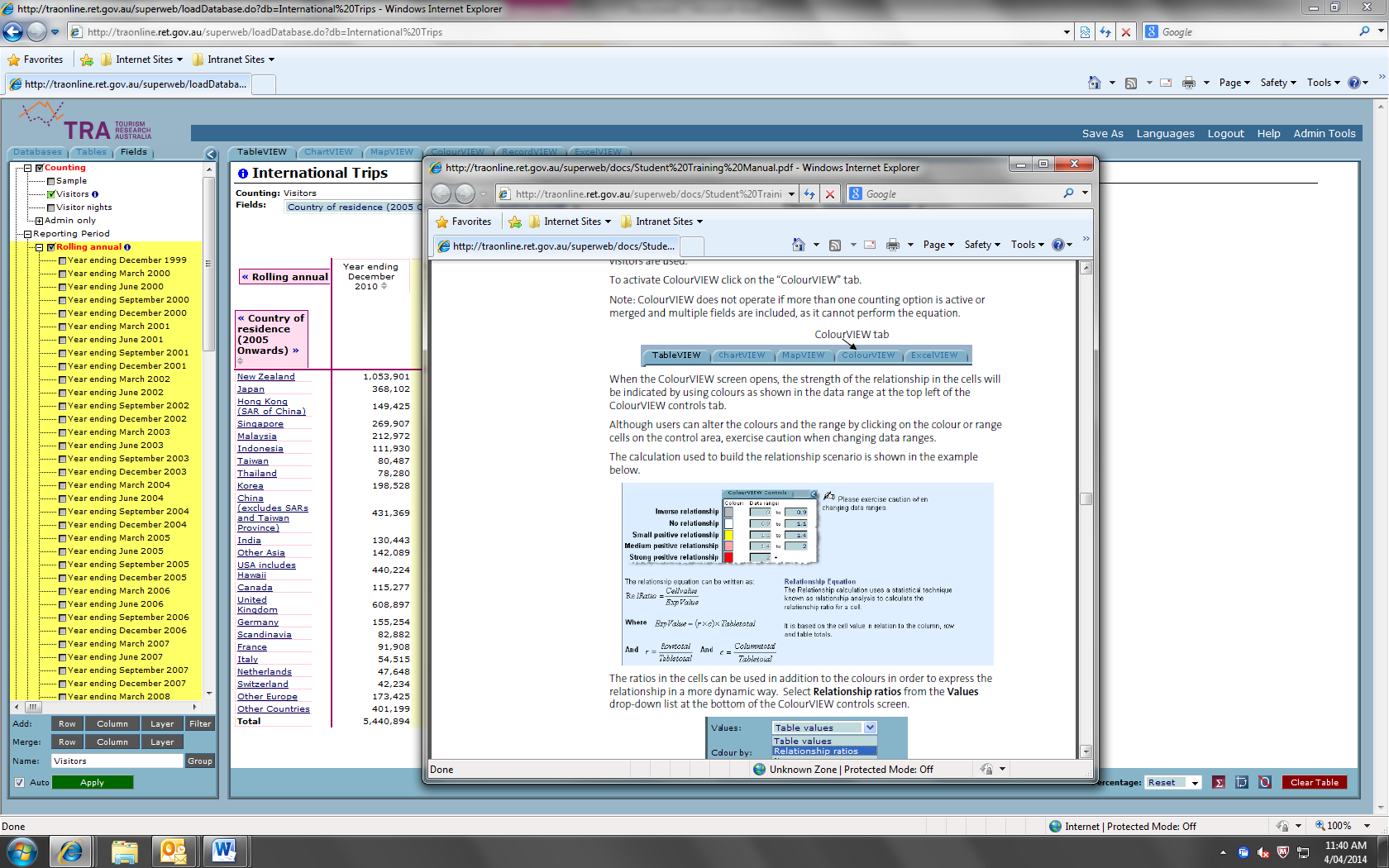 The benefits of SuperWEB2, SuperCROSS and SuperDataHub have been dramatic:
TRA seen as being at the cutting edge for information delivery.
Improved standing in the tourism and research industries.
Reduction in service delivery times and less resourcing.
Delivery of data in STR format forms part of the Service Level Agreement with funding partners.
Increased job satisfaction for TRA staff.
24 hour access to TRA data in real time.
The STR Suite has also given TRA further opportunities to expand and add value to their organisation's income stream through their ability to implement their service into other organisations. The Student Data package for universities is one such scheme, but it was only possible due to the ease of deployment and manageability of the STR software suite because it can easily be integrated into existing IT systems.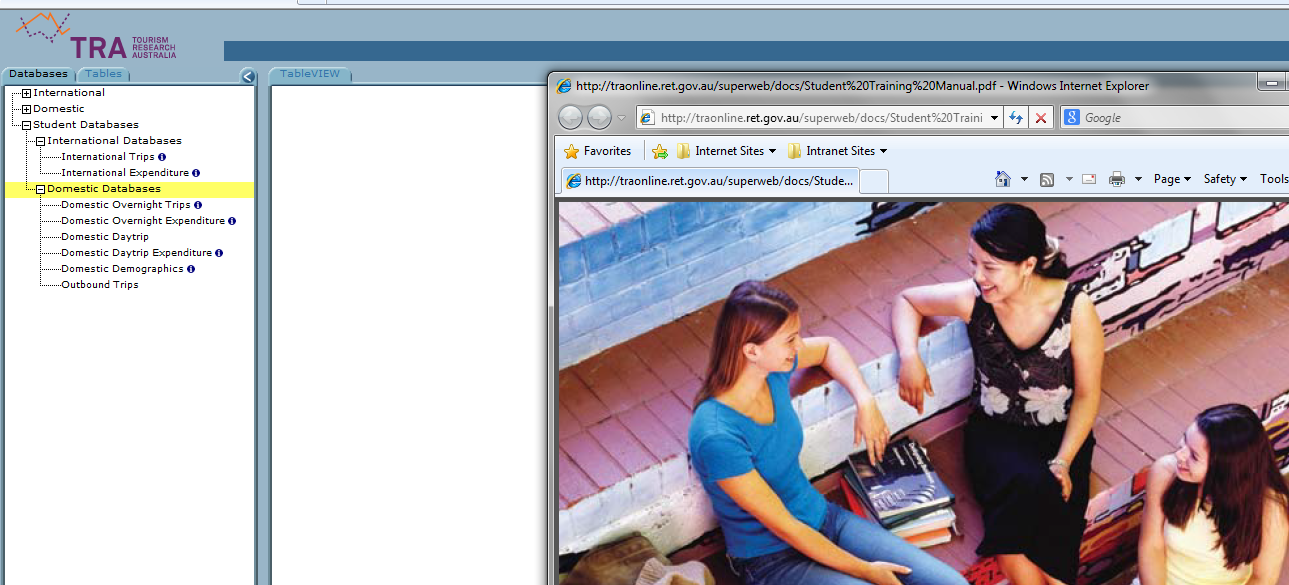 Concluding Comments
We can see here how these customers were able to transform the way they were able to deliver data to their internal and external consumers.
The online access component of the solutions meant that their business questions could be answered quicker and anywhere. Whether you need to reduce service delivery times or increase the access people have to important data, STR technology has the solutions to these problems.
Imagine what we could do for you.